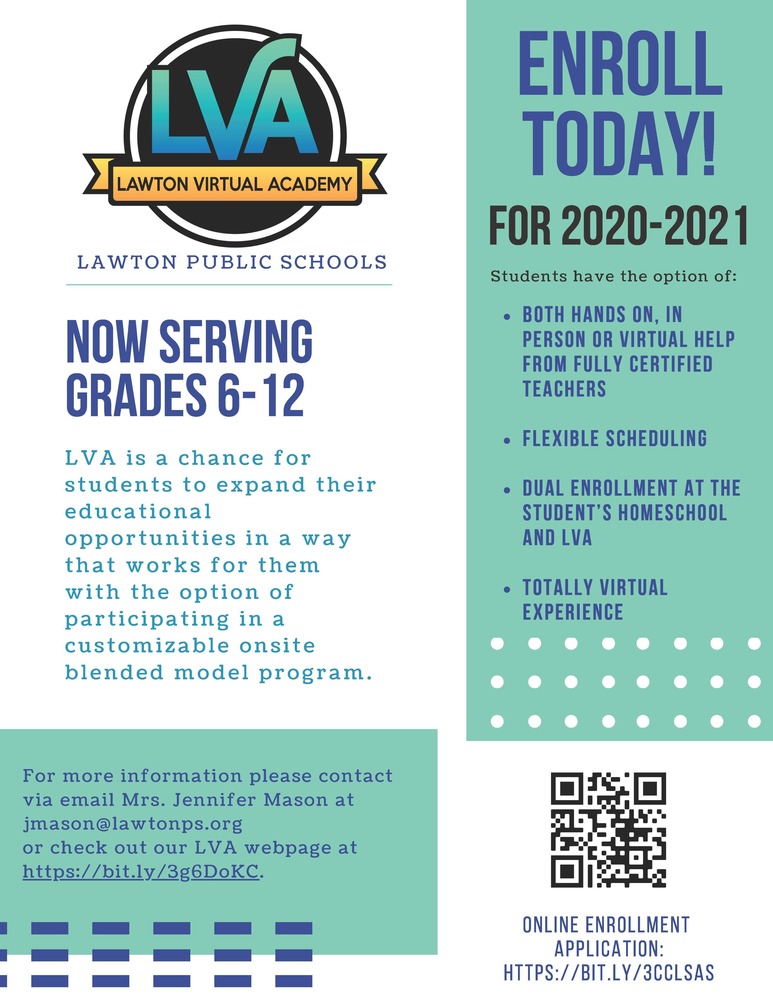 Learning Virtual Academy expands services and accepting applications
Lawton Public Schools
Tuesday, May 19, 2020

PRESS RELEASE FOR IMMEDIATE RELEASE: May 19, 2020
Learning Virtual Academy expands services and accepting applications
Lawton, OK: Lawton Virtual Academy (LVA) is accepting applications for the 2020-2021 school year. The Academy is expanding their enrollment to serve grades 6-12 for the new school year. LVA is a program of Lawton Public Schools established in 2019 where students can expand their educational opportunities in a way that works for them with a blended approach to learning.
"LVA is unique because it offers the online experience to students without losing all of the benefits of a local public school district," said Jennifer Mason, assistant principal of Lawton Virtual Academy. "The opportunity for students to interact in person or online with their subject area certified teachers is a major plus."
Mason understands the need to reach students who, for whatever reason or circumstance, are in search of a different way to learn.
"The reasons students leave brick and mortar classroom settings are vast," she said, "and Lawton is able to offer students the best of both worlds."
While the traditional schoolwork can be completed online, LVA students still have the opportunity to participate in LPS sports, extra-curricular activities, and more. Core classes and diverse electives will be available through OdysseyWare and Edgenuity. Students in need of technology to complete the coursework will have the opportunity to check out a Chrome book from LPS.
Mason said the program's success last year led to the middle school expansion for the upcoming school year.
"Middle school can be a difficult time for many students," she said, "but with LVA there is another option students have in order to make their education experience a positive one."
All students will be supported by qualified, certified teachers. Applications are available online at www.lawtonps.org>Lawton Virtual Academy Applications.
For more information, contact LVA assistant principal Jennifer Mason at jmason@lawtonps.org or 580-355-2214 EXT 2449.
###